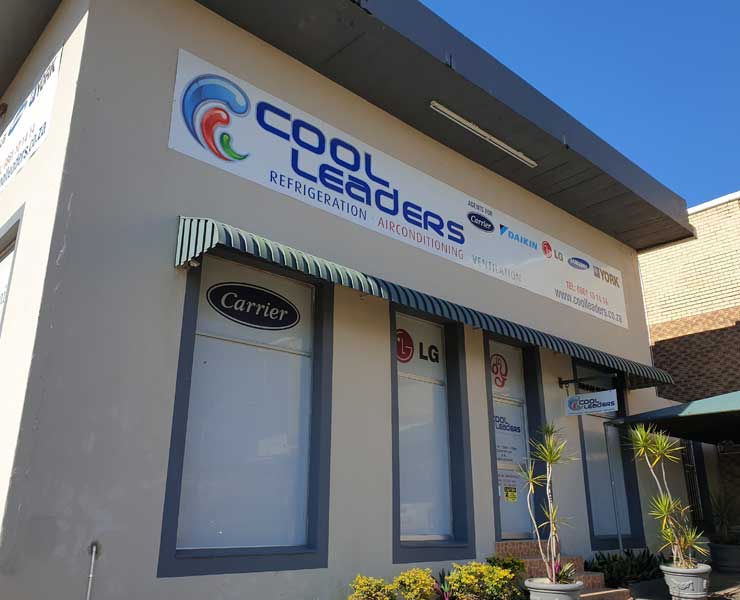 Cool Leaders is a dynamic Air-Conditioning company servicing homes, businesses, and Industry in KwaZulu-Natal. We are proudly a Level-1 BEE company with more than 50 years of accumulative industry related experience.
We have successfully established ourselves as a market leader with a reputation for excellence in the domestic, commercial, and industrial air-conditioning market. Our triumphant success is primarily attributed to constant reevaluation of our systems and, dedication to our relationships with our clients, staff, and suppliers.
Our constant growth and financial stability ensure a fruitful future for the company.
Our policy is one of continual reinvestment of profits in the most technologically advanced cutting-edge equipment, and continual staff development programs to retain our position as market leaders in the Air Conditioning Industry. This has resulted in cost effective products, competitive pricing and superior quality, service and delivery for our clients, secure and stable employment for our staff, in conditions conducive to empowerment and personal growth.
As a business, we strive to continually develop our staff as a professional team of highly skilled and motivated individuals with a flair for providing customer gratification. This enables us to offer excellent and unparalleled service in the Air-Conditioning industry, including Installations, Repairs, Maintenance and Services. Our incredible team will ensure that we meet and exceed your requirements in Domestic, Commercial and Industrial Air-Conditioning, Heating and Ventilation Projects.
OUR CODE OF ETHICS
As a company, we pride ourselves on impeccable ethics. Our Code of Ethics is founded on the premises of the fighting against corruption, fraud, misleading advertising and negotiating in bad faith. Cool Leaders will constantly and consistently:
Act ethically and in the interest of all stakeholders.
Ensure that individuals and entities working for us are accountable for their conduct.
Conduct business fairly, not mislead anyone or misrepresent any products or services.
Not knowingly supply a defective or dangerous product or service.
Ensure that confidential information remains as such, wherever applicable.
Conduct business with reasonable care and skill.
Take reasonable account of the interests of the community in which we operate.

OUR SOCIAL RESPONSIBILITY
Within our company:
BEE is a cornerstone of our company since its inception. We are passionate about training and developing our staff, which is why we have a continuous staff training program. We sponsor staff development courses and expose staff with leadership potential to a Fast-Track Development Program. We also have a Pension| Provident Fund and Staff Financial Assistance Program.
Within our community:
We are passionate about helping our community stay active and live better! As such, we sponsor various sports clubs and organisations in our community, including: Dukuza Athletic Club, Moorcross United Football Club, Cool Leaders Volleyball Club, Greater Durban Golf Club, Mandeni Youth Centre, Mandeni Football Club, Stanger & District Volleyball Association.
We sponsor and support various charitable organizations who are dedicated to helping our community heal and flourish, these including: Child and Women Haven, SOS Children's Village, Lifeline South Africa, Association of Mouth & Foot Painters (PTY) Ltd, Muscular Dystrophy Organizations, Save A Child, St. Theresa's Children's Home, Rotary Club of SA, Ubuntu Community Chest, Tafta, Durban's Children's Home, various public schools and other religious and cultural organizations.